I'm not normally into a laundry list or summary of my recent activism, nor do I want to embark on such a tedious task today. But I would like to share how I view the current state of the BCRA or AHCA or whatever crap Congress is throwing our way. To date (July 4), we have stopped the ACA repeal. I am an activist in West Virginia. My Senator, Shelly Moore Capito, is often touted as a moderate Republican, though she isn't seen as a moderate in most circles. She normally rubber stamps whatever McConnell throws her way and of course confirmed all of Trump's nominees.
But, West Virginia has benefited incredibly from the ACA. Medicaid expansion in particular has resulted in approximately 180,000 West Virginians from receiving new coverage. We are also typically at the top of the list for MOST unhealthy in the US. And we have an aging population. The WV Center on Budget and Policy does a far better job at outlining why repealing the ACA would just plain suck for our state. Read it.
Depending on the crapburger of a bill you're considering, pre-existing conditions may be covered, though it's unlikely either bill would require minimum health insurance benefits. My husband is a diabetic and I am a woman — meaning all of the sudden, my simple being could once again mean that I pay more for health insurance. My husband, though an avid runner, all around healthy guy, and occasionally cookie junkie, will never see a cure for his disease. Though he manages it well, he will cost health insurance companies more simply by living. And through no fault of his own.
So I am worried what an ACA repeal could do for our state and my family. Couple that with a nasty state budget fight and grim economic future for our state. I had to act. What resulted was the #SaveMeCapito Campaign — an effort to get folks to share their stories of how the ACA repeal could hurt them. We received over 50 videos and have shared via Facebook and Twitter, plus delivered to Senator Capito. Yes, my friend Micah and I drove to DC to bring our message directly to the Senator. (P.S. – the campaign was of course a part of a group effort. Shout out to the New Activists team!) Coincidentally, all of this work has meant a dearth of blog posts. But I'm back!
And so far, the campaign and super-duper WV push back on the bill has worked. Senator Capito has confirmed — at least so far — that she will not vote for this bill.
Why did it work? 
The #SaveMeCapito campaign was one small piece of a larger state-wide and national effort.  Groups like Indivisible and Move On and even the podcast Pod Save America provided encouragement, assistance, and resources. Move On helped bring Bernie Sanders to our state for a health care rally. (And his team is bringing him back THIS weekend to Morgantown!) But the grassroots folks on the ground KEPT THE PRESSURE ON. We also provided logistical assistance and volunteers.
Even though the Senate went into July recess not voting on the bill, the grassroots did not let up.
On July 4, a group of friends in Morgantown attended a ribbon cutting and parade, calling out two representatives who voted AGAINST our state by voting for the AHCA. They also had nonsensical reasons for voting for the bill. I honestly believe a Republican strategy for the AHCA is to make up nonsense to tell constituents. But that's a blogpost for another day. Meanwhile, I'm on vacation! Go team!
Just today, groups in WV and OH banded together — on a bridge — asking Senators Capito and Portman to save our health care.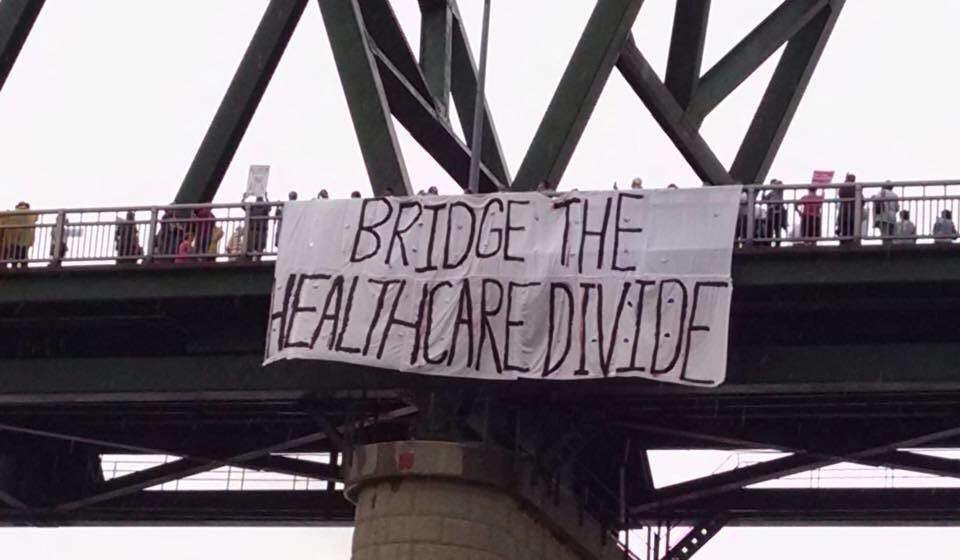 .@senrobportman @SenCapito #BridgeTheHealthcareDivide #DontHurtMeCapito #DontHurtMePortman #SaveMeCapito #SaveMePortman @WCWVI #NoBCRA #ACA pic.twitter.com/bEy7YdJxpZ

— Rodney Wilson (@fatnugly56) July 7, 2017
But really, why? 
I think we have succeeded so far because the grassroots has worked tirelessly to kill this bill. And because institutions, politicians, and organizations have helped. I would like to think that our WV activists could have done it alone. We are passionate and tireless. But I don't think we need to do it alone. Resisting the Trump agenda is a marathon and not a sprint. We need to work hard. But we need to be able to do so in a month and a year. We work strategically.
Organizers and activists are also employees, mothers, fathers, and children. We have responsibilities outside of our activism. So it worked because the grassroots mobilized, we were supported by organizations and politicians, and our families helped with the chores, child care, and extra responsibilities while we were at meetings, rallys, and trips to DC. Resisting Trump and making the world a greener and more equitable place requires action and support. At all levels.
And so, here's a picture from my vacation today! Because sometimes, activists also need a break.